A Bad Exhaust Fan in Your Caldwell Bathroom Can Cause Mold Damage
8/26/2018 (Permalink)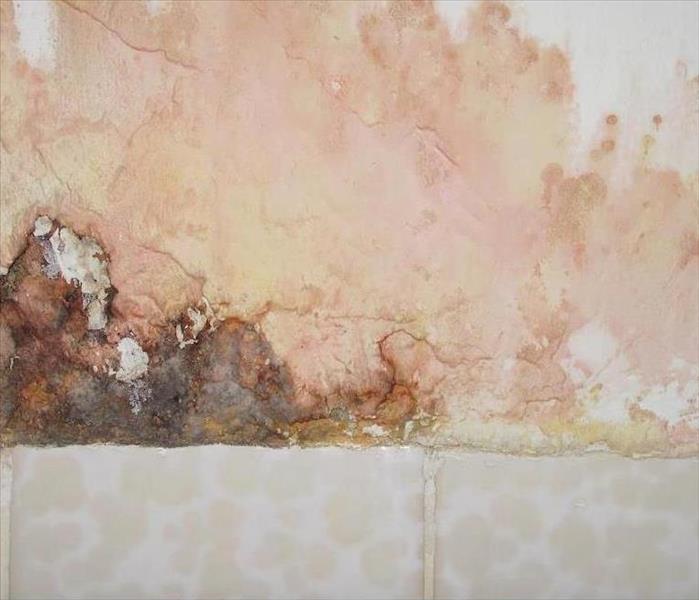 Bathroom mold can form rather quickly if the ventilation is not set up correctly. Contact SERVPRO to investigate.
SERVPRO Technicians Remediate a Current Mold Infestation While Offering Tips to Prevent a Recurrence
Without a good exhaust fan inside of your bathroom, it is easy enough for all of the excess moisture and humidity to cause a problem like mold damage. When you shower, the exhaust fan helps remove the steam from the room, therefore minimizing the moisture that clings to your walls. Without it, that condensation has nowhere else to go and can settle on the walls instead.

You may begin to notice speckled green, gray, or blackish spots along the walls inside of your bathroom, and it is most likely mold damage in Caldwell. The excess moisture is the perfect feeding ground for mold spores. On their own, spores are not harmful, in fact, they are omnipresent and impossible to get rid of. However, when they multiply and grow into a colony, they can cause health effects and damage to your home. When you find mold, it is best to reach out for professional help.

SERVPRO can swiftly travel to your home after receiving your call. After investigating your bathroom and only finding mold on the walls, our technicians can get to work. Often, mold damage does not require intense or expensive techniques to remove, and in this case, it is relatively easy to remediate.

First, our SERVPRO technicians can take steps to ensure that the mold damage cannot spread to other parts of your home while the colony is being agitated. We use polyethylene plastic sheeting to create a barrier. Sealing the entryways to your bathroom, such as your door, vents, and over the exhaust fans allows us to deal with the mold without it spreading anywhere else.

After we have set up the quarantine, SERVPRO can use a disinfectant solution to wipe down your walls and remove the colonies. To be sure no colonies are forming that we cannot see yet, we can wipe down the entire wall. Afterward, we can use an antifungal agent to help prevent regrowth. Once we finish, SERVPRO can remove the plastic sheeting and then leave your bathroom feeling like it did before the mold.

If mold damage finds its way into your home due to faulty equipment, do not delay. Call for SERVPRO of Nampa / Caldwell's help by phoning (208) 466-5000. Night or day, we can help keep the mold away.

Click here for more information on the city of Caldwell.