Are You Making These Kinds of Moisture Mistakes in Your Caldwell Bathroom?
10/7/2018 (Permalink)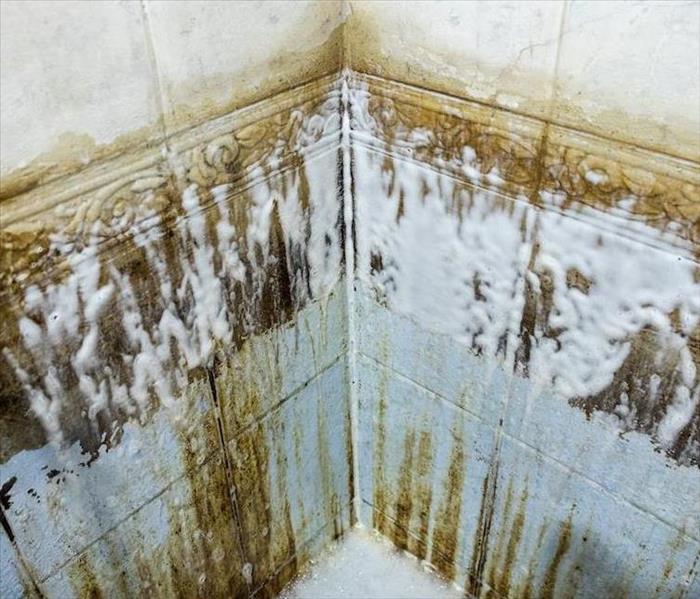 Finding mold in any part of your home, especially the bathroom, can make for a difficult situation. Contact SERVPRO for mold damage remediation.
Preventative Measures are Part of Mold Damage Restoration in Caldwell
Due to excessive moisture in you Caldwell bathroom, there are greenish, blackish and grayish mold spots on the shower walls in your bathroom. Mold can turn into an active infestation if you do not handle the problem right away. Plus, mold can cause health effects if it is not dealt with by professionals. We can arrive at your home within hours after you contact us to begin the mold removal process. Our skilled crew is well trained and can restore your bathroom back to its pre-mold condition when possible.

Our SERVPRO mold damage restoration team in Caldwell works fast to contain mold colonies. We take safety precautions to keep mold from spreading to other areas of your residence. After inspecting the area, the team uses polyethylene plastic sheeting to seal the affected areas. Sealing entryways to your bathroom such as the door and windows and sealing off exhaust fans and vents effectively contain mold spores. Our crew may need to set up another room in your home to store the clothing they wear during the cleanup phase and to clean and sanitize any items and equipment they use during the restoration process.

Once we seal the structure, the team can begin the mold removal process. The crew can use a professional grade disinfectant cleaner to wipe down the shower walls and to eliminate mold colonies. The team may also apply an antifungal agent on the affected areas to stop mold from growing back. If necessary, the crew may need to use agitation techniques such as damp sponge wiping, wire brushing or sanding to remove mold spots. The team may also utilize air scrubbers to reduce mold odors and to remove airborne mold spores.

If mold is present in your home, do not wait to call us. SERVPRO of Nampa / Caldwell is nearby and can restore your home when possible. You can rely on us to work fast. Call us at (208) 466-5000 at any time of the day or night. We are here to help.

Click here for more about Caldwell.