Become Familiar With How to Detect a Pipe Break in Your Nampa Home
12/16/2018 (Permalink)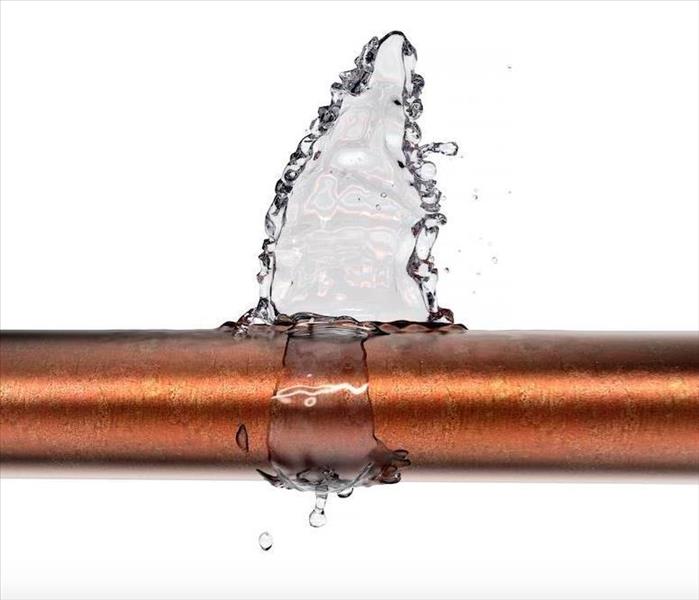 When pipes freeze or break in the walls of your home, contact SERVPRO to investigate the extent and remediate the damage.
Frozen Fixtures Cause Water Damage in Nampa Homes
Frozen pipes are an ever-present concern for Nampa residents as the winter begins. With sometimes extreme temperature drops throughout the season, outside fixtures like hose bibs can become susceptible to freezing. With a blockage in the line, pressure can build throughout the internal plumbing in your home and burst just inside of this fixture, affecting the inside of your house.

Many homeowners do not even know they have inadequate insulation on these pipes and fixtures until water damages in Nampa occur. Often there are shutoffs for these pipes independent from the total plumbing network, but without shutting these down before the winter sets in, these pipes close to the outside of your home (and most susceptible to the freezing temperatures) remain full of water.

When a pipe bursts in the walls of your home, you need an immediate response from professional restorers like our SERVPRO team. We can arrive quickly to identify where the break has occurred using our leak detection equipment. These tools search for audio cues inside of the walls to identify the precise point of the break so that our professionals do not have to remove more of the wall than necessary to repair the damage that has occurred.

With fast extraction equipment designed to pull excess water from the floors and wall cavities of your home quickly like our extraction wands and portable pumps, we can get your home prepared for the critical drying stage as efficiently as possible. Our moisture detection equipment can help to identify the highest concentrations of dampness and moisture in the affected area to show our SERVPRO technicians where to set up the air movers and dehumidifiers for optimal results.

Frozen pipes are unfortunately something that many homeowners in the area must contend with when insulation is inadequate for the lower temperatures. Our SERVPRO of Nampa / Caldwell rapid response team can quickly identify the break and has the industry-leading equipment to restore your home fast. Give us a call anytime that you need us at (208) 466-5000.

Click here for more about Nampa.