Let Our Team Mitigate Your Loss After A Nampa Flood
2/14/2019 (Permalink)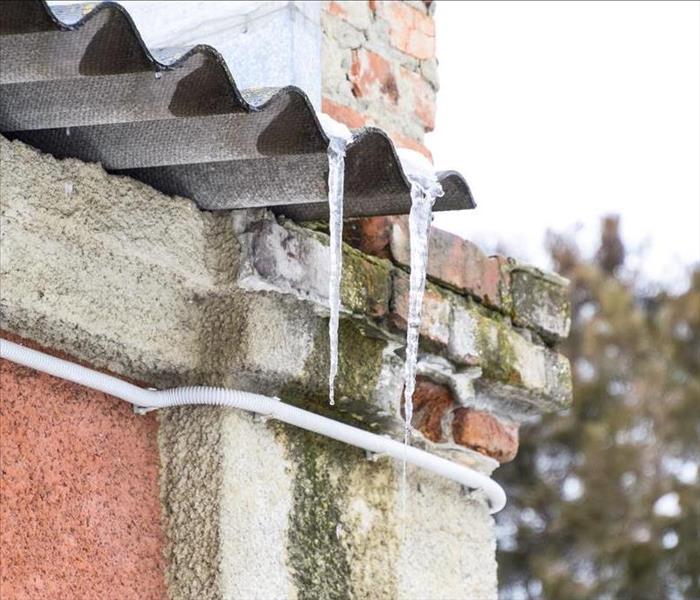 We have the right tools to remove ice preventing further buildup after a flood. Give us a call right away so we can begin prevention and restoration.
Can Ice Damming Cause Flooding in Your Nampa Home?
Through the harshest points of the winter, the temperature around your Nampa home can drop considerably. Combined with heavier snowfall throughout this season, many homes experience ice damming. With many roofs shingled, ice damming can allow for leaking when a growing dam on the edge of the roof penetrates beneath the shingles and melts. Often this is a result of thawing from warm spots on the roof while the temperature is still well below freezing. The situation is even more critical when the dam becomes large enough to restrict melt off from escaping the roof, and it finds a weak point in the roof to exploit and leaks inside.
Preventing a flood from an ice dam in your Nampa home can be as simple as readily checking your roof for signs of buildup. However, without the appropriate tools and safe anchoring, it might prove dangerous to remove ice dams on your own amid freezing temperatures.
Worse still, many homeowners do not recognize the potential of flooding for their homes until these dams have already allowed water to begin flowing into the home unabated. While this might be a finite amount of flow, depending on the buildup on the roof, it can still spread quickly causing considerable damage to the attic and floors below. Our SERVPRO rapid response team can arrive quickly to help mitigate your loss in this situation and offer effective solutions for drying and extraction.
One of the most severe concerns for the attic space is further penetration and mold production, as your attic is often one of the warmest areas of the house. Drying out the flood damage is vital to prevent the colonization of mold, and our SERVPRO team can also identify water penetration points and seal over these areas to prevent further flow.
While ice damming continues to be a problem for many homes throughout the winter season, many homeowners learn about this phenomenon when flooding has already affected their property. Let our SERVPRO of Nampa / Caldwell team clean up the mess and dry up the damage. Give us a call 24/7 at (208) 466-5000.
You haven't experienced Nampa until you've seen Downtown Nampa! Click here for more details.