Our Crew Will Respond Immediately To Your Nampa Flood Damage Restoration Needs
5/16/2019 (Permalink)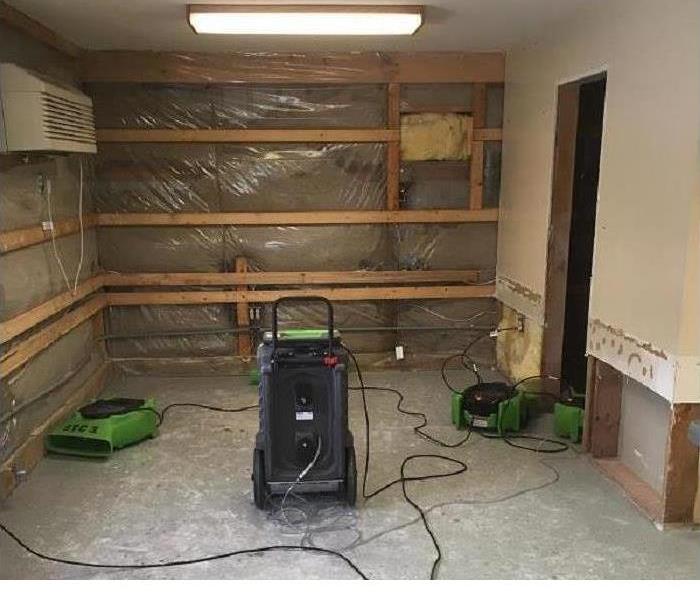 Our team members used a dehumidifier and several air movers to restore this home after water damage hit.
Moisture Wicking from Flood Damage in Nampa Home
Direct exposure of moisture and dampness following flooding incidents around your Nampa home can often be destructive enough, but materials that can wick moisture can add another level of damage for professionals to contend with when it comes to restoration and recovery. With the conventional installation of drywall throughout finished basements and living spaces of your property, these surfaces are often among the most susceptible to the wicking phenomenon. Our team can help to protect these surfaces with a fast response and the use of our advanced equipment and modern practices.
With any flood damage situation that occurs in your Nampa home, our professionals understand the importance of responding immediately. We have ready trailers and service vehicles ready to roll out from our SERVPRO facility 24/7 with the capable mitigation equipment and our experienced personnel to make a significant difference for your damaged property. With flooding, often the most significant threat is the standing water and how far from the source that this water damage can travel. We work quickly to implement containment strategies and extraction equipment to get the situation under control.
Drywall can quickly absorb standing water, especially from its bottom against the framing baseboards. As this problem persists, the moisture and saturation can begin to wick up from the base of the wall towards the ceiling. Depending on the length of exposure and the height of the standing water, this problem can spread several feet from the floors. We have multiple devices that can work to determine the severity of this exposure, including infrared and thermal imagery. With the use of this equipment, we can determine how high wicking has occurred and can use this as a literal line to remove exposed drywall for later replacement.
Wicking is a common occurrence with materials in your flood-damaged home, and drywall is among the most susceptible of these surfaces. To reduce the time of recovery and cost of materials, our SERVPRO of Nampa / Caldwell can work quickly to remove oversaturated portions of drywall to prepare your property for repairs. Give our experienced recovery team a call anytime that you need us at (208) 466-5000.
Discover the town with an authentic small-town feel and hidden charm click here for more information.