Who Wants to Handle Flood Damage Remediation in Nampa Alone?
6/8/2019 (Permalink)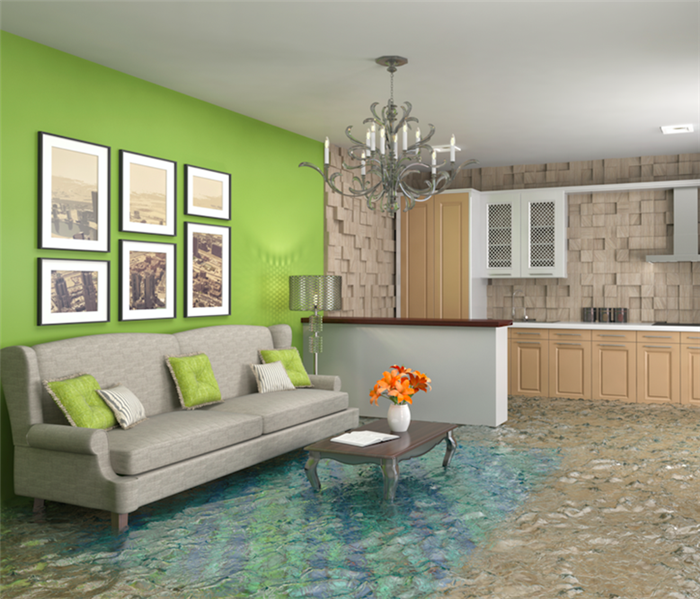 Storm damage in your Nampa residence can be devastating. Contact SERVPRO today for remediation assistance.
SERVPRO Handles Flood Damage in Nampa Home from Strong Storms
This area of Idaho is no stranger to wild weather, especially intense storms resulting in flash floods. The problem with groundwater when it enters your home is that it can bring a myriad of issues with it, including silt, debris, chemicals and even sewage.
A homeowner in Nampa contacted our SERVPRO location for assistance with flood damage in his home. He stated he used towels to blot up the water that came in from a worn seal around his storm door, however water seeped back out around the walls, and he wanted help cleaning it up.
Because groundwater rates as a category three biohazard, sometimes referred to as "black water" professional mitigation is vital for health and sanitation reasons. We arrived quickly and scoped the room using moisture detection equipment to see all the areas the water migrated into. Thanks to the homeowner's fast response to the initial incoming water, he had moved out everything on the floor before it got wet, and we found no excess moisture in the subfloor or wicked into the sheetrock.
There were high areas of moisture behind the baseboards around the room and our technicians removed the baseboards so we could use our portable extractors and made several passes over the open wall cavities to extract all the excess moisture possible before we set up air movers to dry the wall cavities.
We have specialized drying equipment for situations such as this. The Injecti-Dry forces warm, dry air into tight spaces and delivers a faster drying time than using air movers on the outside of the wall only.
Because mold spores potentially activate as fast as 48-hours after a water loss if conditions are right, we strive to inhibit those conditions. Our drying goals usually hover around 40% humidity or less, slightly more or less depending on the readings for unaffected areas of the home to ensure we maintain standard humidity levels unique to the property. Afterward, SERVPRO technicians thoroughly clean and disinfect all affected surfaces with our powerful antifungal cleaners.
SERVPRO of Nampa / Caldwell has the training and equipment to handle any size flood damage in your home. We respond 24/7 at (208) 466-5000 and make your water loss "Like it never even happened."
Click here for more information about the city of Nampa.