Get Rid of Fire Damage In Nampa For Good
7/3/2019 (Permalink)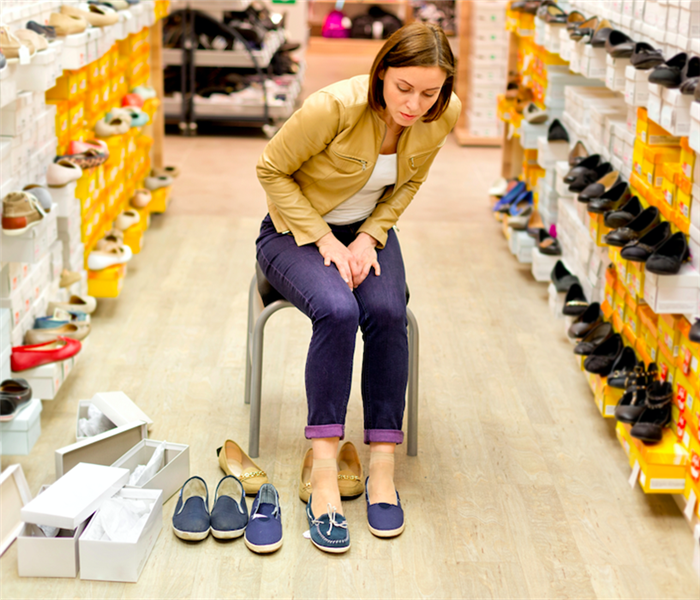 Don't let your Nampa business be overcome by water damage. Contact the professionals at SERVPRO today for help.
Shoe Stores with Commercial Water Damage in Nampa Need Cleanup, Repairs, and Restoration of Floors
The fit of someone' shoes affects how they walk, their posture, and also their confidence. Providing customers in Nampa with high-quality shoes and boots means potential buyers want to try out different pairs of footwear before they decide to buy something. Shoe stores choose flat, low-pile carpet making it easier to feel how a pair of shoes genuinely fit when walking. Ripples and bubbles in the carpet can affect customer and employee safety, as well as your profits.
When wrinkled areas on the floor put customers and employees at risk of tripping, it might indicate that your shoe store in Nampa has commercial water damage. This type of damage can stay hidden under different circumstances, only to affect increasingly larger areas. When different materials come into contact with water that slowly seeps from an area and into another, it often leads to the discovery of older damage.
When pipes leak onto floors, carpets can end up with thinned-out portions of padding, and the carpet fibers themselves can stretch, especially in high-traffic areas. Moisture can also spread within the components of the flooring, and as it evaporates into the air, it passes through the pad and then the carpet. Soiling increases the amount of damage, of course, so proper maintenance in the past can decrease the severity of destruction experienced.
SERVPRO's team can handle water damage involving your floors. We handle not only carpeting, but our specialists are also skilled in four other types of flooring repair and installation. Tile, linoleum, wood, and marble floors all require professional care from time to time. When your store's walking surface becomes damaged from lost water, our experts can provide you with trusted guidance gained from preparing for certification from the Institute of Inspection, Cleaning and Restoration Certification (IICRC).
When business owners need aspects of their retail shop or storage facilities restored, our building services can decrease the time involved. Water damage can take a toll on any building's interior and its contents. Relying on a company that can handle all facets of the necessary work reduces many of the negative aspects involved in getting a shop's condition how you want.
When water damage affects your shoe store and ruins flooring, walls, or other areas leading to safety issue and lost profits, call SERVPRO of Nampa / Caldwell at (208) 466-5000. Our highly trained and skilled team is always ready, 365 days a year, day or night.
Click here to see more about Nampa.