SERVPRO Experts Can Handle Interior and Exterior Fire Damage In Nampa
9/11/2019 (Permalink)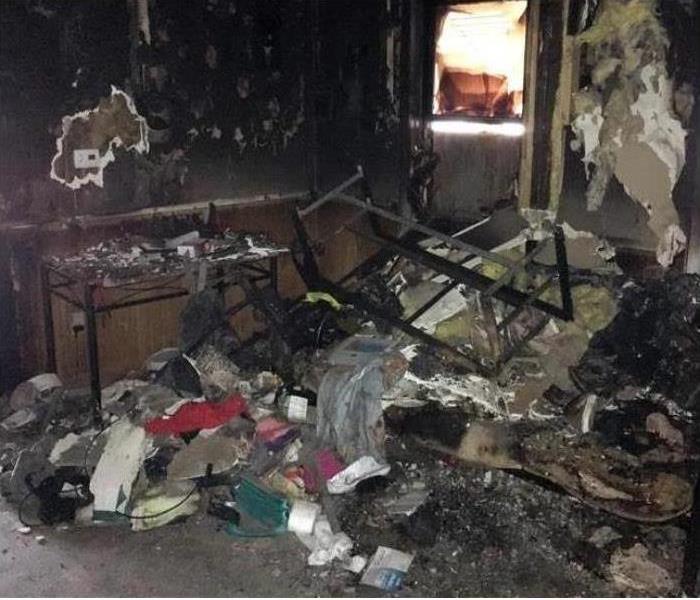 We are Faster to Any Size Disaster. Our fire damage specialists are certified by the IICRC in fire restoration, carpet and upholstery cleaning.
Burning Leaves, Brush, and Weeds can Lead to Preventable Fire Damage to the Exterior of Your Nampa Home
Fall weather includes outdoor activities like cleaning up the yards and adjacent fields, as well as along the borders, of your Nampa property. Much of this debris might get burned to save time over other disposal methods. Even if your family does not do this, neighbors close to you might. We are always here for you, no matter the source of the problem affecting your home.
If the wind picks up burning things or still-hot ash and pushes it near your Nampa house's exterior, fire damage can happen. An open door at the house, garage, or a shed can let the fire spread. SERVPRO specialists can handle both interior and exterior damage to your residence and make things like they were before. Taking safety into consideration can help prevent injuries and property damage to both your own house and to neighbors' homes, as well.
Instead of burning piles of leaves in an open area, we find that using a metal container with a mesh screen prevents many accidents. Smaller amounts of ash can escape, of course, so placing the container at a distance from your house means these smaller ashes burn out before coming into contact with anything.
Where you place the container should also be far away from gas grills, gardening supplies, vehicles (including farming equipment), and anything else slightly flammable. Checking overhead to make sure of an absence of power lines and other cables can prevent dangerous situations and fire damage.
While our building department can help repair damage to your roof, preventing it costs much less. Such damage can come from either power lines that catch fire, or dead trees that ignite from a fire burning too close to their branches. A mesh top to the container can help keep flames from growing too tall. We can also remove such trees, freeing up your lawn from broken branches and other debris.
Regarding flammable items, you must never burn containers that held gas, oil, or other chemicals. Even if these do not explode inside the burning container, they can release highly toxic fumes and gases when they reach certain temperatures. This is also true when burning plastics and other synthetic materials. While many items produce different colors that might tempt teenagers to add such items for their visual effects, the by-products make this a dangerous activity.
Residents in our area can contact SERVPRO of Nampa / Caldwell by calling (208) 466-5000. We are always ready to respond to your emergency and make things "Like it never even happened" to your property's exterior, interior, and outbuildings. Fire damage also brings smoke and soot deposits, as well as foul odors, into your environment.
See more about Nampa.