How SERVPRO Determines the Right Commercial Cleaning Method for Businesses in Nampa
12/11/2019 (Permalink)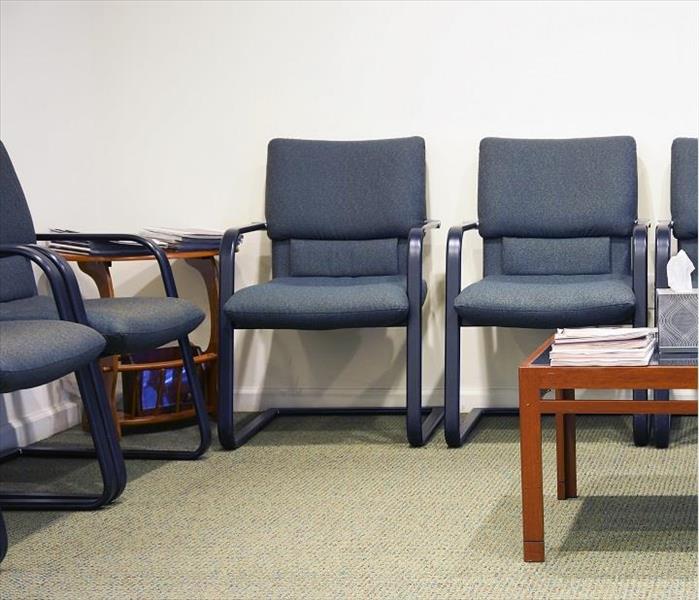 Your office creates an impression of your business. Who wants to sit on dirty upholstry? Call SERVPRO for our Commercial Cleaning Services.
The Science of Identifying Materials When Preparing for Commercial Cleaning in Nampa
When searching for a reliable commercial cleaning service provider in Nampa, our team's mastery of the Institute of Inspection, Cleaning and Restoration Certification (IICRC) training offers a discernible difference to local businesses. Our managers and technicians understand the science behind safe and efficient cleaning methods, ensuring that we match appropriate techniques and products to the cleaning challenges we face at your commercial property.
The Importance of Identifying the Composition of the Surface
When we evaluate your Nampa commercial cleaning needs, one of the essential steps is determining what type of materials we expect to clean. You might think you know the composition of the carpeting and upholstery in your office space. Memory can fade, and our crews know how critical it is to identify whether fibers are synthetic or organic as we prepare to clean thoroughly but without harming materials.
Natural Fibers
Natural fibers are prone to shrinkage and color transfer. If cellulosic fibers are present, one challenge to overcome is a tendency toward discoloration or browning. When the SERVPRO team cleans natural fibers, we take the time to pretest the effects of products and methods in an inconspicuous place. We also protect the material cleaned and nearby articles from color bleeding during processing.
Synthetic Fibers
Synthetic fibers are not as reactive to different cleaning approaches. Typically synthetic fabrics show favorable results when treated with a wet cleaning method. Ease of care is a selling point for businesses considering synthetic fabrics.
Hybrid Fabrics
Blends of several different fibers, both natural and synthetic, create fabrics. These hybrid materials can pose a puzzle for our SERVPRO team as we plan for the most successful cleaning result.
Fiber Testing
We perform three tests to identify the types of fibers present in your business space. Once we determine the makeup of the fabrics needing cleaning, we can use our training and experience to select from among the cleaning products and methods we have available. SERVPRO employees remove samples of the fabric or carpet from a hidden place to complete the testing.
Burn Test
We train our SERVPRO technicians to evaluate distinguishing characteristics when fiber burns. We observe the type of flame, odor, ash, and smoke to pinpoint the likely fiber.
Chemical Test
Applying different chemicals to samples identifies fiber type depending on whether the material dissolves. SERVPRO professionals are aware of which chemicals dissolve particular fibers to confirm the determination.
Specific Gravity Test
We place fibers in a container of water and wait for saturation. Only one type of fiber has a specific gravity of less than 1, proving that floating fibers are Olefin, a synthetic.
Count on the team at SERVPRO of Nampa / Caldwell to determine how best to clean the fabrics in your commercial building. Whether you need carpet or upholstery cleaning, call (208) 466-5000 with confidence to set up an appointment.
More about Nampa.