What Helps Speed Up Water Cleanup In Nampa?
6/14/2020 (Permalink)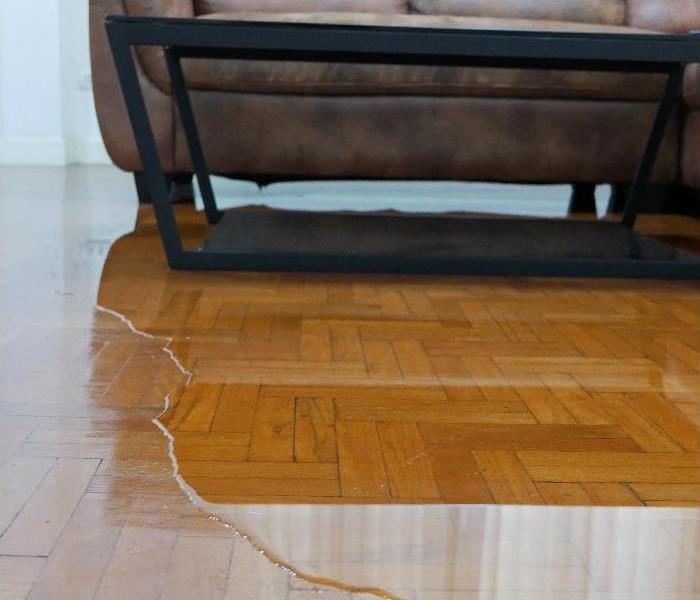 Water damage restoration should never be stressful, which is where we are here to help at SERVPRO of Nampa / Caldwell.
If Your Nampa Home Suffers Water Damage, Our Team at SERVPRO Has Advanced Technology to Get it Cleared Up Rapidly
Dealing with a water leak is never a situation that any homeowner wants to deal with. However, you need to know that the faster you act, the easier it is to limit the amount of loss and cost involved for total restoration. SERVPRO has the manpower as well as the equipment necessary to speed up your water cleanup so that your Nampa home is back to preloss condition faster than DIY methods alone.
Why Can't I Go the DIY Route?
A natural reaction to water damage in Nampa is grabbing the nearest mop to pull up as much water as possible. You may think that you can keep it from migrating to other rooms or from damaging your carpet. However, the chances are good that water already seeped into other areas. What is essential now becomes trying to locate all areas of hidden moisture so that they can get appropriately addressed. When you call SERVPRO for your water cleanup needs, you can count on us for:

• Tried-and-true water cleanup techniques
• A team of dedication water restoration technicians (WRT) that understands the best approach for handling water damage
• Advanced technology made for water extraction, drying, water detection, and deodorizing
• Rapid, efficient planning that helps to limit the onset of secondary damage
What to Expect Once You Notice the Leak
It is recommended that immediately after the leak is detected that you try to control the source. This means looking for the shut-off valves connected to the area where the leak originated. In some instances, homeowners may have to get the main water supply turned off. It is then imperative that you call in the help of trained professionals so that expert mitigation can begin.

With a single call to SERVPRO, we deploy a team to your location as soon as possible. We are available 24 hours a day, seven days a week, for emergency restoration services. This means that we can be to your home in as little as four hours to begin assessment and water cleanup. Our Green Fleet arrives loaded with equipment, and our crew chief evaluates to determine the best course of action. The detailed plan formulated from this assessment tells the team how to proceed with each step, including the type of equipment and number of units necessary to ensure ultimate efficiency.
What if I Have Hardwood Floors?
Some floor finishes tend to make hardwood less prone to saturation. Our team uses moisture meters to determine the levels of exposure and saturation after all standing water gets extracted. The longer that your hardwood flooring has contact with water, the more damage sets in. Addressing hardwood flooring with expert drying techniques within the first 24 hours of contact with water gives you the best chance of salvaging them. We have specialized drying equipment to help force airflow beneath the flooring surface so that moisture can be released.

The best course of action might be controlled demolition if saturation took hold and moisture penetrated the flooring for an extended period. During this process, the team removes the unsalvageable materials, and everything gets replaced with brand-new hardwood floors.
Some of the Water Soaked Nearby Carpeting – Now What?
Extraction is critical with any water loss project we get called to in Nampa. We have specialized tools designed to efficiently remove water so that we can save as many contents, building materials, and structural elements as possible, including:

• Truck-mounted pump extractors
• Submersible pumps
• Wet Vacuums
• Light wand extractors, and more

Successfully handling saturated carpets includes the use of sophisticated technology like probing moisture meters. This allows us to determine the level of damage beyond the surface.

• We have weighted extractors, or rovers, that use the technician's weight to push water from the carpeting so that it can be removed.
• Carpet wands help to remove water from carpets by addressing the surface layer.
• Our team also uses centrifugal air movers to help dry carpets. Known as floating, we force air between the padding and the surface carpet layer to dry them simultaneously. This is a process that works best if the subflooring below is not yet affected by moisture.

Should the carpet be damaged beyond repair, we perform controlled material removal. This allows us to direct our focus to the materials below, such as the subflooring, joists, and supports. Salvaging these materials helps avoid costly and invasive restoration efforts moving forward.

Each water restoration project we take on is finished up with thorough cleaning and disinfection of the affected areas. Our goal is always to ensure your interior is just "Like it never even happened."

Water damage restoration should never be stressful, which is where we are here to help at SERVPRO of Nampa / Caldwell. To have a team deployed to your home, give us a call at (208) 466-5000.