How Serious Are Safety Hazards During Water Restoration, and Who Can Assess and Manage the Risks?
10/12/2020 (Permalink)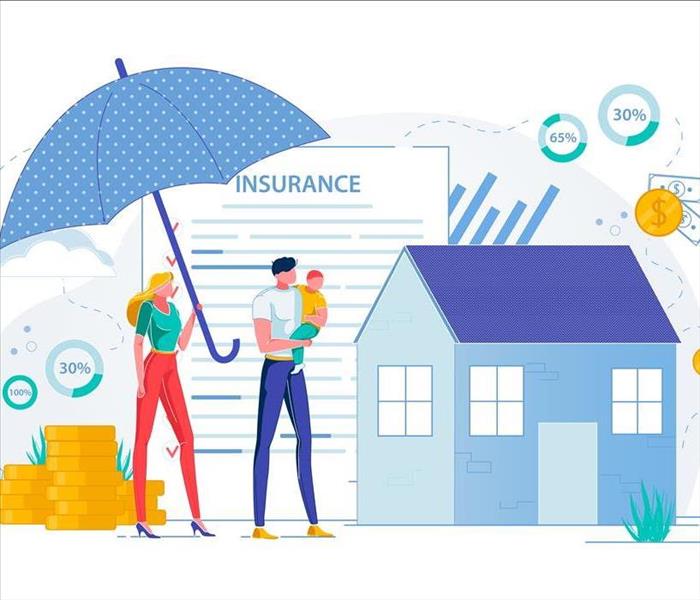 SERVPRO ensures great water damage restoration to policy-backed Nampa properties. We have you covered!
Water Damage Restoration Is a Complicated Process, but SERVPRO Crews Are Highly Qualified and Prepared for Both Anticipated and Unexpected Issues Affecting Nampa Residents
Water is used for so many practical purposes in our lives that it seems strange that a leak, hose rupture, or overflow of this essential fluid in your Nampa residence causes almost instantaneous and potentially permanent damage to building materials. The best restoration outcomes occur when trained and well-equipped Water Damage Restoration Technicians (WRT) arrive onsite quickly, ready to begin mitigation strategies immediately after a safety hazard assessment completes, and a control protocol is implemented.
Why Are Water-Damage Caused Hazard Inspection and Evaluation Restoration Project Priorities?
When you envision water restoration unfolding in your Nampa home, a crew wielding pumps and water extractors perhaps is the first thing that comes to mind. Upon arrival, our Institute of Inspection, Cleaning and Restoration Certification (IICRC)-trained crews await word from the project manager that they can begin to secure spaces and proceed with initial water mitigation. The manager's decision depends on an assessment of imminent structural damage and other water damaged-based risks that could expose either or both the integrity of the structure and the health and well-being of your family and restoration workers to injury, illness, or even death. Examples include:
Personal hazards such as --

Increased slip, trip, and fall possibilities
Blunt head or body injury in tight or confined spaces
Exposure to chemical water contaminants

Environmental hazards such as --

Weakened building materials, including supports that could collapse because of trapped water or damage related to water pressure or corrosion of metals and crumbling of wood products
Exposure to live electrical current, especially electricity conducted through water or damp materials, that could cause shock or electrocution and could start a fire

Exposed biohazards among damaged building structures such as previously encapsulated but now disturbed asbestos-containing materials and surfaces containing lead-based paint or other toxic amalgams or coatings
Contaminants in water or on damp materials such as infectious human waste, if sewage mixes into the fluids, and molds and mildews newly exposed or currently growing and multiplying
What Strategies Control the Hazards So Water Loss Restoration Can Commence?
SERVPRO managers use their training and experience to craft an effective and efficient plan to limit harm during mitigation, remediation, and restoration efforts. Some control strategies also result in partial or full mitigation and remediation of the water damage, paving the way for final restoration interventions.
Temporary Shut Off of Electricity and Other Utilities
Turning off electricity, natural gas, and oil burners dramatically reduce the risk of shock or fire during water removal and drying. SERVPRO anticipates the probability of at least a short-term loss of onsite power by stocking gas-powered submersible pumps and truck-mounted extractors, using generators or fuel alternatives to prevent water evacuation delays.
Rapid Water Removal, Containment, and Lawful Disposal
The extraction of the water eliminates the wet surface hazards and the electrocution possibility. Using our truck-mounts and later portable units to extract the water into tanks provides the containment needed to prevent contaminated water contact with skin and dumping into untreated areas. SERVPRO is familiar with local hazardous waste disposal rules, following them as we haul away the fluids for lawful discharge.
Detecting and Releasing Trapped Water
Once the bulk of the unwanted water exits your home, we use advanced technologies like floor mats and Injectidry systems to remove trapped water under floorboards or tile or behind walls. To locate the hidden fluids, SERVPRO technicians use:
Infrared imaging
Moisture detectors
Moisture meters
On occasion, we employ controlled demolition tactics to release the water, such as:
Weep holes, especially where ceilings hold water
Drainage holes drilled or sawn in mortar joints or at the bottom of walls
Flood cuts that span the area between wall studs several inches above the water line, removing wet drywall and opening up the space for effective drying
Remediating Biohazards
Suppose we discover microbial growth like mold or mildew or hazardous heavy metals like lead or minerals like asbestos. In that case, we halt activity until SERVPRO biohazard specialists evaluate the circumstances and craft a response. Our team includes technicians certified to contain and remove these hazards safely. If needed, we can arrange for additional testing or contractors to eliminate the materials contaminated with these organisms or toxic materials.
Put your trust in SERVPRO of Nampa / Caldwell after a significant water loss. We have the training, experience, and equipment to address any hazards that arise as we make it "Like it never even happened." Call for prompt assessment and water restoration planning at (208) 466-5000.