How Much Will My Property Damage Restoration Job Cost?
9/6/2016 (Permalink)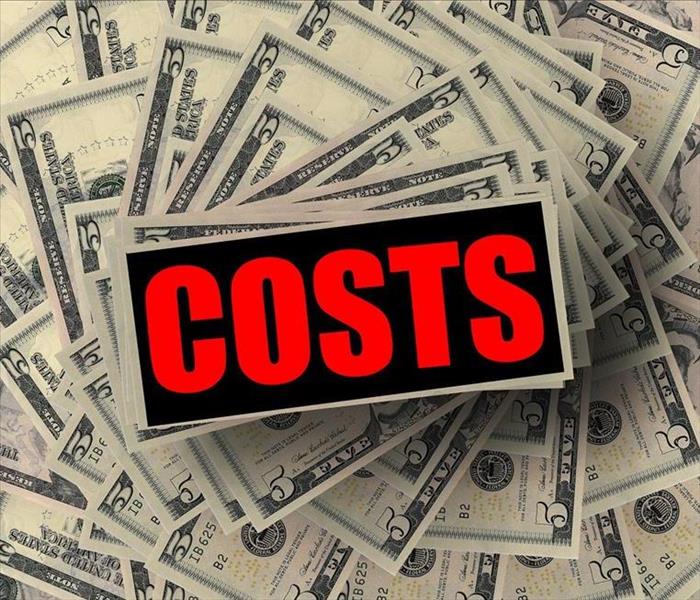 Questions About the Cost of Your Property Damage Restoration Job in Nampa, Caldwell, Middleton, Homedale or Parma? Call SERVPRO at 208-466-5000
Each property damage restoration situation is unique, and there is no "standard" cost. It is common for there to be concealed damage, or for the job to take longer than initially expected. Each job must be estimated individually, but often the actual total cost cannot be known until the job is complete. The rates for equipment and labor charges are often negotiated in advance with the insurance companies, much like the charges for medical services.
The Cost of Water Damage Restoration in and around Nampa
Much of our water damage restoration work consists of drying, cleaning and restoring building materials after we have removed the non-salvageable materials. The equipment used to remove the water and dry out the materials consists primarily of extraction tools and drying equipment such as commercial grade dehumidifiers, low grain refrigerant dehumidifiers, and air movers (ducted fans). Water extraction and cleaning costs are based on the size of the affected area (cost/sq. ft.). Drying equipment is billed on a daily rental basis, and the number and size of equipment items required are based on the size (in cubic feet) of the affected area, and severity, and the number of days it takes to dry. A good rule of thumb for the industry is three days of drying time. It can take longer for deeply saturated materials. Some materials, especially when saturated, are harder to dry than others (such as large structural wood members, concrete or plaster) and may require additional drying time and more expensive equipment, such as heaters or desiccant dehumidifiers. If there is a power outage or insufficient power to run the equipment, power generators may be necessary, and they are also billed at a daily rate. Water restoration can range from a few hundred dollars to several thousand dollars for a typical home. For larger jobs, including commercial restorations that involve entire buildings that are flooded, the cost can be much higher.
The Cost of Mold Remediation in and around Caldwell
Mold remediation is usually more expensive than water restoration. Normally it requires the construction of a containment barrier, special protective clothing, and air scrubbing equipment. The contents in the affected area must usually be removed and cleaned, and then stored until the remediation is complete and it passes a clearance test. The typical price ranges from one or two thousand dollars to tens of thousands of dollars. Mold growth can begin within 48 - 72 hours, So if your building is wet, it's much better to get started on drying it out immediately, before mold growth can begin.
The Cost of Fire and Smoke Damage Restoration
Fire and Smoke Restoration costs tend to range from a few thousand dollars to tens of thousands of dollars. Normally every square inch of the building and contents that were not destroyed by heat or flames must be thoroughly cleaned and deodorized. The building contents must usually be removed from the building, cleaned and then stored. Once the restoration is complete, and the building has been approved for occupancy, the contents are returned. Access can be provided to a customer's stored contents by request during normal business hours.
The Cost of Trauma or Crime Scene Cleaning and Restoration
Crime scene or trauma scene restorations, also called biohazard cleanup, typically range from the low thousands up twenty-five or thirty thousand dollars, depending mostly upon the size of the affected area and how long it has been exposed.
The Cost of Reconstruction
Since reconstruction cost is directly related to how much is affected and how much material was saved and restored, there really isn't a typical reconstruction cost. There are some restoration jobs that require no reconstruction at all, and others where the structure is destroyed and must be rebuilt from the ground up.
If you have more questions about the cost of restoring your damaged home or business, please call SERVPRO of Nampa Caldwell at 208-466-5000, and we will be glad to come out and give you a free estimate.