Emergency Water Damage in Downtown Caldwell Historic District
10/6/2016 (Permalink)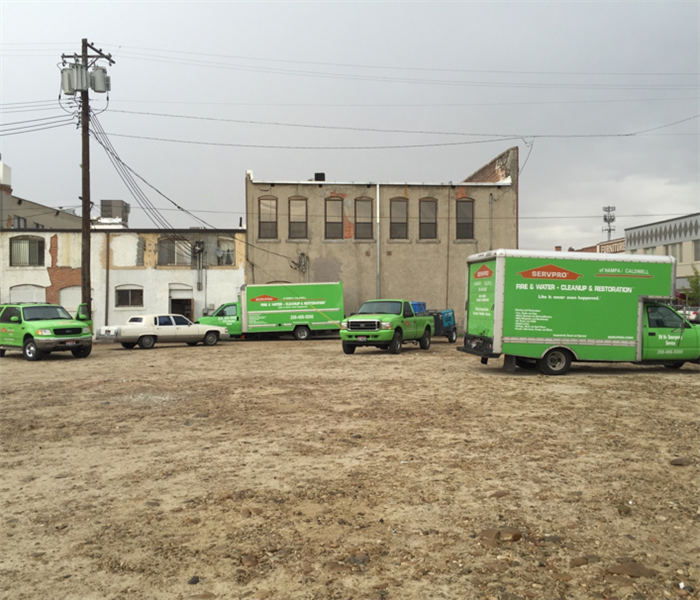 SERVPRO of Nampa Caldwell on the Scene of a Commercial Water Damage in the Downtown Caldwell Historic Preservation District
SERVPRO of Nampa Caldwell was called to the scene of a commercial emergency water damage restoration in Downtown Caldwell. The loss occurred near the Farmer's Market, in the Caldwell Historic Preservation District. A broken pipe flooded all nine rooms in the basement of a historic office building, occupied by several local businesses. The City of Caldwell called us out to the scene. We arrived within an hour of receiving the call and began extracting immediately to stop the progression water and prevent further water damage. Once the extraction was complete and non-salvageable floor materials were removed, the businesses were able to resume operations partially, for which they were grateful.
Water damage restoration in older buildings can be tricky. The materials from which they were constructed, such as plaster and composite tile flooring, can be difficult to dry and laden with asbestos. It requires knowledge of specialized structural drying techniques. SERVPRO of Nampa Caldwell is certified by the IICRC in Applied Structural Drying. We are trained, equipped and experienced to handle large, complex commercial drying jobs in any structure: new, old, or unique in any way. We will begin the job immediately and work night and day, holidays and weekends, to get your business back up and operating as quickly as possible. An immediate response with the best equipment and training available is critical, and those are the hallmarks of SERVPRO of Nampa Caldwell's Commercial Division.
Many businesses are not prepared for a property damage emergency, which can result in a serious disruption or interruption of their operations. In fact, almost 50% of businesses fail in the event of a significant fire or water damage emergency, because they have failed to plan. Knowing what to do and what to expect in advance is the key to timely mitigation, and SERVPRO has developed a simple way to have an Emergency Ready Plan for your business or commercial property in the palm of your hand at that critical moment. We will help you to download our Ready Plan App to your mobile device and enter detailed information about your property, including photographs. By having this information organized and readily available before an event occurs, you can minimize business interruption with an immediate plan of action.
Our Ready Plan App and our services to assist you in gathering and uploading the information are free of charge. So call SERVPRO of Nampa Caldwell to arrange for our Customer Service Representative to come out and meet with you to set up your Emergency Ready Plan today, at 208-466-5000