Commercial Water Damage Can Turn a Caldwell Family Restaurant into an Eyesore
12/14/2017 (Permalink)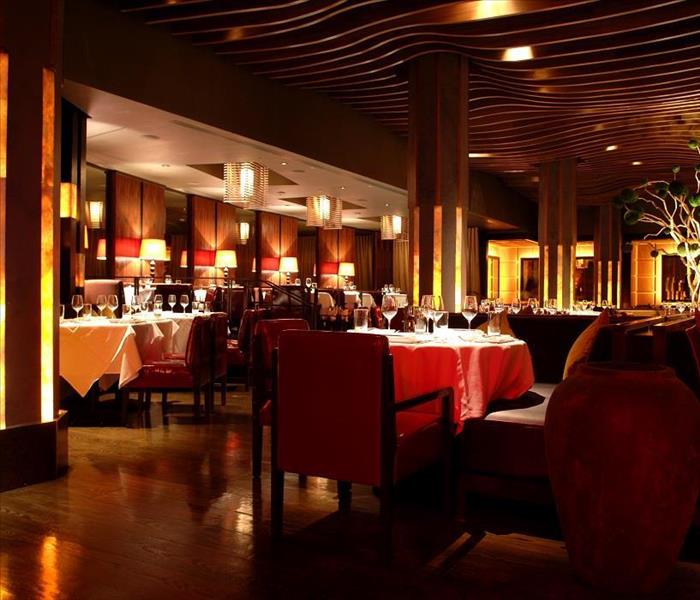 A clean environment is key to the success of your business, rely on SERVPRO to restore your restaurant "Like it never even happened."
Rely on SERVPRO to Restore Your Business After Water Damage
You know how important it is to the success of your restaurant in Caldwell to create an atmosphere that sends the message that your restaurant serves quality food by a hardworking waitstaff in a clean and wholesome setting. All three elements require your constant attention.
A deficit in any of these attributes can harm your Caldwell restaurant, but commercial water damage affecting the interior of your establishment poses unique issues and concerns. You can quickly change menu items or work around problems affecting waitstaff, but when your building starts showing issues caused by water and moisture, patrons notice quickly.
Because water damage takes many different forms, each business can expect to suffer unique circumstances, particular to their building's construction and the source of the water creating the damaging effects. Water that came in during a flood differs significantly from water from a leaky roof. Kitchen appliances, in addition to sinks and drains, can also permit water to enter areas that should stay dry.
Regardless of the type of water damage that your restaurant contains, SERVPRO's technicians can help. From stripping paint and cleaning grungy spots to repainting walls and trim, we restore water damaged areas more easily than some other places. Water can bring about substantial problems to wood of all types and grades, finished or unfinished. When stagnant water accumulates long enough, even treated lumber can become affected and deteriorate.
Removing wood and other damaged materials prepares your restaurant for repairs and any needed reconstruction. However, mitigation of water damage before it reaches this point saves significant time and money, so its importance makes it a priority. It is impossible to determine precisely how water might damage any building in the future, making preventative measures crucial. Damages might remain slight, or become extreme.
When water damage affects the environment in a restaurant, you can expect the dining experience of your patrons to suffer. Water often creates a humid environment, along with a musty, distinct odor. Both can affect diners' experiences without any visible signs of water damage.
Our goal is to restore each business with water or other kinds of damage, so it is "Like it never even happened." SERVPRO of Nampa / Caldwell can be reached at (208) 466-5000 24 hours every day of the year. Our round-the-clock service ensures a timely response by caring professional and IICRC-certified technicians who can provide the services your restaurant requires.
Click here for more information regarding Caldwell.