Faulty Sprinkler Systems Can Create Water Damage To Your Nampa Clothing Store
2/6/2018 (Permalink)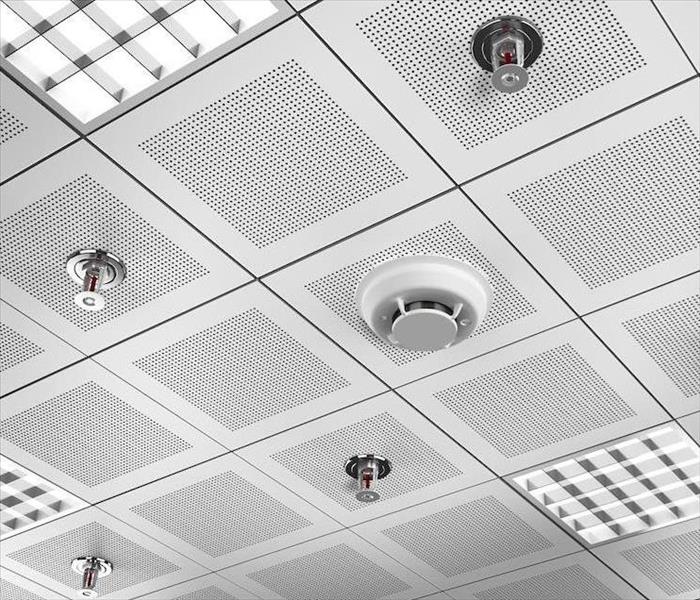 Sprinkler systems in your store can be life saving in case of emergency but they can also fail leaving you with water damage. Contact SERVPRO.
SERVPRO Technicians Assess and Remediate Damage at Your Business Facility
Aging sprinkler systems that are networked throughout the building you use as a clothing store might seem like they were built to last forever, but that is rarely the case. While it is true that antifreeze is often used in these pipes to keep them from freezing over several years of not being used, there are other factors at play that could jeopardize the integrity of the piping throughout your Nampa clothing store.

As water sits in a pipe (in this case for years at a time), the molecules within the water are continually looking for something to create a reaction. With a primary material like ductile iron, water does not have travel far to be able to get a reaction from the iron. Over time, the water molecules create enough of a reaction to weaken the integrity of the pipe from the inside out. Since this volume of water is under pressure and tied to an unending supply of fresh water, even a small break can leave considerable commercial water damage to your Nampa store.

If this rupture happens after hours, it can leave untold amounts of water pouring out onto the affected area. Given that your clothing store gets split into either a sales floor or a storeroom, either one could have equally damaging financial implications for your business. Contacting our SERVPRO team is a wise decision to help you mitigate your losses and restore the damage to keep your business going strong.

With the highly pressurized water coming in from the ceiling plumbing network for the sprinkler system, the first objective is to turn off that water and prevent further damages. Extraction is the next step to follow, and this can typically get accomplished with the use of portable pumps and vacuums. Provided that our SERVPRO technicians were able to reach the site shortly after the break occurred, drying should be one of the final steps to the restoration process. A thorough assessment of potential structural damage along with the damage to stock and contents guides the team in what actions to take beyond these primary steps.

Time is of the essence when you have a water emergency in your store. Give SERVPRO of Nampa / Caldwell a call whenever disaster strikes and we can help. Our emergency response team is available 24/7 at (208) 466-5000.
Click here for more about Nampa.