Commercial Water Damage Affects Building Structure And Places Inventory At Risk In Caldwell
5/15/2018 (Permalink)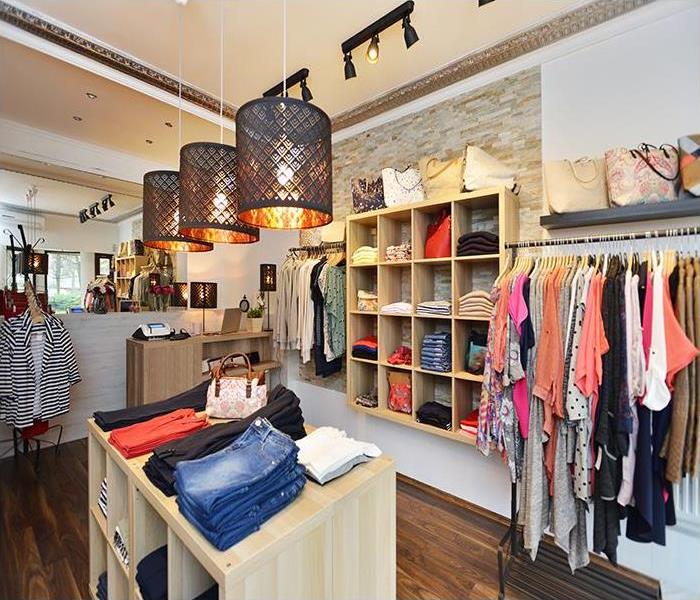 Caldwell area retailers know that fire and floods can both damage a building quickly, but both leave water behind.
Commercial Water Damage
Caldwell area retailers know that fire and floods can both damage a building quickly, but both leave water behind. Leaks in plumbing and roofing can do the same.

Businesses in Caldwell do not need to become saturated visibly before commercial water damage takes place. Small amounts of water can also create problems by matting insulation down compactly, which causes it to lose its ability to perform well.

Electrical components can become compromised and dangerous to use when even slight amounts of moisture accumulate inside. When power fluctuates or fails altogether, staying open during regular business hours becomes difficult. Not only does it create safety issues for your customers, but on-duty employees risk increased injuries.

At SERVPRO, we take preserving the integrity of other businesses very seriously. Without your presence, our economy suffers and becomes less diverse. Keeping the buildings in excellent shape within our local communities helps gain the outside commerce that additionally strengthens our area. Our technicians can mitigate water damage wherever it occurs in your retail business, and help ensure that such loss does not reoccur in the future.

We use infrared imaging devices to help detect the smallest amounts of water that can remain present from minor leaks. These identify the presence of water because of the changes in temperature. Other devices designed to detect the presence of moisture assist us during the drying process, so we can more easily determine our progress. Steadily removing the humidity can prevent water damage from becoming too severe.

If water damage already exists, mitigating it should begin immediately. It can only become worse with time, as many property owners often discover after waiting to start mitigation of the damage. Increased costs as well as lengtheir closures to repair the additional damage often follow a decision to wait 'until a better time.

SERVPRO of Nampa / Caldwell can help your business through prevention of commercial water damage after an incident involving water, help you discover where undetected water intrusions take place and mitigate any amount of damage present. Helping determine losses for insurance purposes include your building, equipment and supplies, and your inventory. Call us at (208) 466-5000 for assistance that can help make everything "Like it never even happened." and get your business back on track quickly.
Click here for more about Caldwell.