How Fast Can My Nampa Business Reopen a Water Damage Incident?
9/29/2021 (Permalink)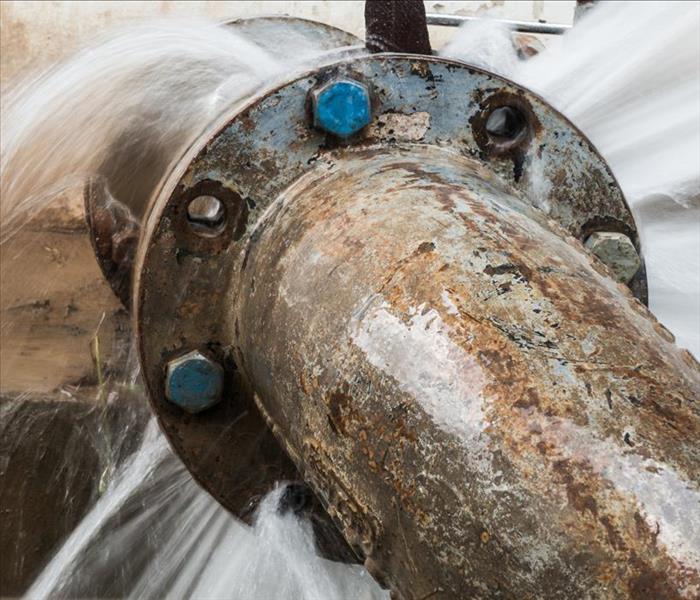 Commercial water damage restoration is a job for SERVPRO. We specialize in all forms and sizes of any disaster.
SERVPRO Technicians Arrive Quickly and Have the Tools and Methods to Restore Nampa Properties to Their Pre-loss Condition
There are a vast number of factors that determine that outcome for a commercial structure and contents after water damage in Nampa. Two of the most important are the type of water within the building and how quickly the mitigation efforts started. After 48-hours, the water degrades to the point it requires handling as a biohazard. Due to the potential to miss areas of water, it is vital to bring in a professional restoration services company with detection equipment to locate all areas of water migration.
What is the Fastest Way to Get Commercial Water Cleanup?
It can be disheartening to walk into your business and find it needs water clean up from a Nampa water damage restoration team. SERVPRO techs know you want to reopen as rapidly as possible, but the techs also put safety first. Unsafe elements during water mitigation include:
The danger of slip and fall accidents
Hazardous contaminants present in the water
Possibility of shock from wet outlets or electronics
When only a portion of the Nampa structure gets affected by water damage, SERVPRO techs often separate the damaged area with yellow safety tape and, in the case of contaminated water, plastic barriers over the area to stop the potential for anyone aspirating or coming into contact with the water.
Winning Tactics for Limiting Damage to a Professional Space
Equipment is a big investment for a business, and there are essential documents that need protection. If these items are unable to get removed preceding the arrival of the technicians on-site, all you need to do is inform the SERVPRO Crew Chief. That person will ensure anything needed gets priority.
Computer equipment such as routers, switches, and servers tends to react poorly to exposure to highly humid conditions. These items should never get tested on-site. If there are any concerns about the operational ability of any equipment, the techs can arrange for an industry professional to inspect and test the devices to ensure they are safe for reuse.
Elements of an Organized Pack-Out
Working around desks, chairs, and cubicles is a possibility during water mitigation efforts. In some situations, the process can get sped up if the items get removed and taken to another area for inspection and safe storage. This may either be on-site or at a secure location used by SERVPRO. It works like this:
Technicians photograph and note the location of each item
Anything needing cleaning or drying gets moved to a cleaning station first
The final spot in the temporary storage gets documented
After mitigation efforts, everything down to the smallest item gets returned to its original location
What Are Some Common Issues During Commercial Water Damage Cleanup?
When a pipe bursts or there is a bathroom backup, the flooring tends to bear the brunt of the damage. In offices with glue-down carpets or tile, the process of delamination begins quickly. While these materials get inspected for the potential for reuse through cleaning and drying, in the majority of cases, they require disposal. When the water damage includes sewage, most porous items have no restoration potential due to the contaminated nature of the water.
Concrete is a porous substrate and needs drying applications that assist in pulling embedded water out of it. Afterward, a white powdery substance known as efflorescence may get left on top from the salts and minerals, also coming to the surface, but this gets easily cleaned away.
Sheetrock and baseboards are other areas that need a good deal of attention after a commercial water damage. While baseboards often can get removed, dried, and reinstalled, sheetrock is another story. When exposed to water, it wicks it rapidly upwards and quickly begins to warp or buckle. Once this reaction happens, the techs measure several inches above the highest mark and cleanly cut off the damaged area. This makes the repairs easy as a new piece of sheetrock needs to get put in and then sealed with a joint compound and sanded down. After repainting, there are no signs of the controlled demolition needed.
The final issue in most water damage events is the odor. No one wants to frequent a business or work in an environment that smells musty. SERVPRO techs have various applications for odor control to eliminate odors at the molecular level.
SERVPRO of Nampa / Caldwell at (208) 466-5000 is available 24/7 to handle any size of commercial water cleanup on your property. Call as soon as the event happens to get the best outcome.