Can Fires Affect the Structure of a Nampa Home?
10/25/2020 (Permalink)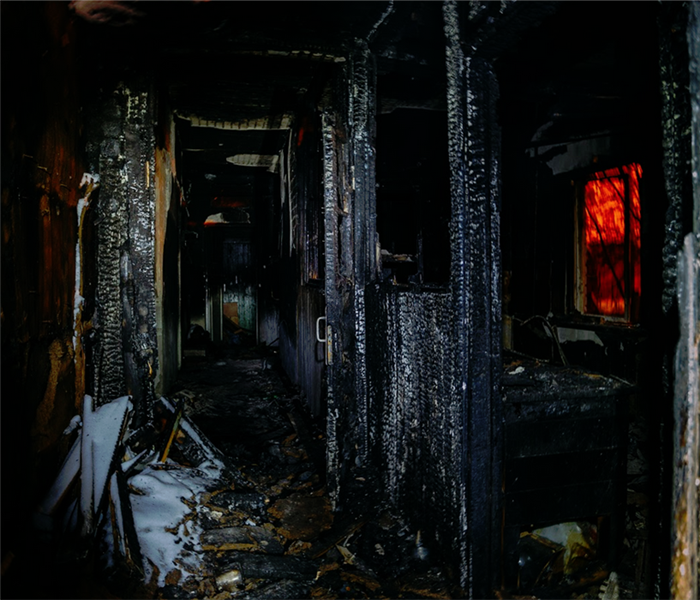 Dealing with fire damage is a tedious job. Contact SERVPRO for remediation and mitigation services for your home.
Housefires Can Cause Extreme Harm to your Nampa Home. SERVPRO Fire Damage Restoration Services Can Aid the Recovery.
What is structural damage caused by fire?
When a house fire affects your Nampa home, the first materials to combust are likely to be contents or structural components like cabinets or fittings—usually building assembly guards against fire, preventing the heat from affecting the structural frame of the building. In situations where a fire burns long enough, and at a high enough temperature, it can begin to affect the property's structural integrity. Heat damage can lead to charring of the internal structure, but it is usually better to restore these issues than replace load-bearing materials.

How is wood frame restoration conducted?
When frames need replacing, we consult a structural engineer or building inspector before performing the necessary tasks.
Scraping smoke residues from the frame before installing new wood is essential to preventing odor.
After sandblasting or installing a new frame, it is vital to finish the wood with a lacquer or varnish to protect it from future harm.
When is it necessary to replace a structural framework after a property fire?
We endeavor to perform fire damage restoration in your Nampa home before opting for replacing materials. The cost of sourcing and reinstalling the wooden framework can be high. Our technicians first attempt to return the materials to a preloss condition. First, we inspect the frame and perform a pre-test to judge whether damages are a sign of scorching or charring rather than smoke residue soiling. In most situations, fires affect the visual appearance of structure but not its integrity. If the structure is significantly weakened, we can consider a replacement.

What techniques are used for structural frame restoration?
Light to moderate residues can often benefit from dry cleaning or wet cleaning using detergents.
Significant smoke residues may require an abrasive technique using blasting equipment to remove wood layers.
The sealing damaged frame can help to control odors and is often the preferred method of restoration.

Addressing the structural framework of a fire-damaged home relies on experience and expertise. Contact SERVPRO of Nampa / Caldwell at (208) 466-5000.
Click here for more information about Nampa.