How Quickly Can I Get Water Out of My Factory?
6/25/2020 (Permalink)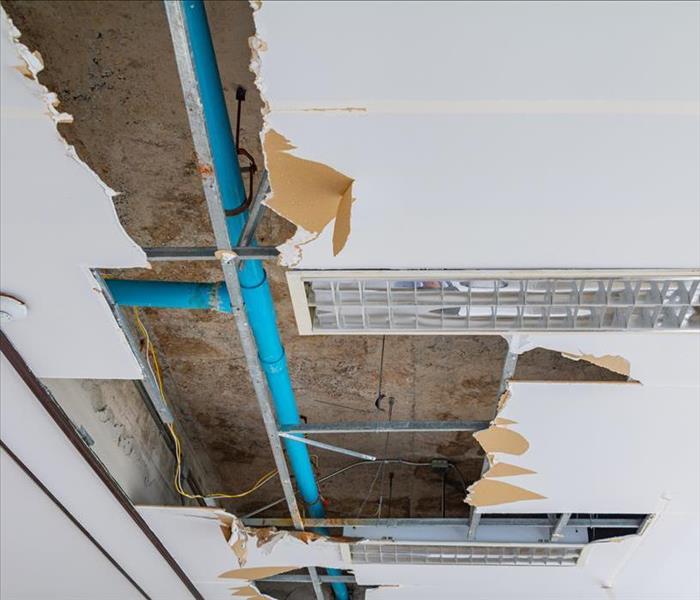 Does your business have a water restoration issue? Call SERVPRO of Nampa for the restoration care you need.
For a Rapid, Professional Response, Call SERVPRO for Your Nampa Business
Now that more businesses can reopen, staying open every possible minute in Nampa is more important than ever. A faulty sprinkler or a broken inlet pipe can shut down operations anywhere from a couple of days to several weeks without professional restoration.
It's Only Water, How Bad Can it Be?
Without professional, commercial, water restoration, a Nampa light industry can lose stock, shelving units, walls, and even structural supports. SERVPRO specialists train extensively to dry the ceilings, floors, and everything in between.
Where Do Your Specialists Start?
As one of our inspectors look over the building with the owner, team members set up exhaust fans in windows and doorways to increase air circulation and reduce the humidity level inside so they can work more efficiently. That includes the following:
Installing air movers to generate warm airflow speeds up drying the floors and forces moisture out of drywall and ceiling tiles where it is captured by the exhaust fans for removal from the facility.
Setting up more fans around storage racks and tables to dry those surfaces and all items on them.
Wiping down everything our specialists can safely reach by hand with cloths, sponges, and mops where needed.
Is there Anything I, and My Employees, Can Accomplish?
In a commercial operation, SERVPRO advises that everyone stay out of the facility until after our response team arrives. Even if the water mostly evaporated, there are still streaks and puddles that can cause people to fall. The only recommendations are to turn off the water to your business or have the utility company do it for you immediately, and then open all the doors and windows possible.
To schedule a service call or for more information on what SERVPRO of Nampa / Caldwell can do for you and your business, call us at (208) 466-5000 today.